Obama Administration Deceitfully used 2007 Subdivision HUD Report as Basis for AFFH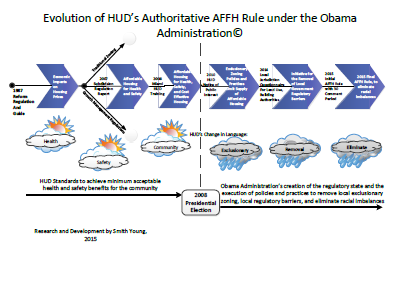 This is the original, first of it's kind, 2007 national report on the cost of zoning regulations as they affect a single family dwelling.  Recommendations in this report have since been used by the Obama administration to fraudulently twist and reuse for the development of the Affirmatively Furthering Fair Housing, AFFH, Rule to impose on local governments policies and practices to now eliminate "exclusionary zoning" and "racial imbalances".  These policies and practices were never envisioned at time of this report when HUD's priority with regard to zoning was health, safety, and community.
You can download this lengthy, but easy to read report using Adobe Reader, click here: "2007 Subdiv report for HUD, by NAHB"
The following diagram is a time line illustrating the sequence of events before and after this informative report and the transformation of regulations, policies, and language since 2007 until the final 2015 AFFH rule.
Download, zoom in and navigate this diagram using Adobe Reader, click here:
"Evolution of HUDs Authoritative AFFH Rule under the Obama Administration"
Wisely, the report includes a disclaimer by the originator that "Neither the NAHB Research Center, Inc., nor any person acting on its behalf, makes any warranty, express or implied, with respect to the use of any information, apparatus, method, or process disclosed in this publication or that such use may not infringe privately owned rights".  Truth is that HUD and the federal government, later using the 1968 Fair Housing Act has indeed used this report to infringe upon our property rights.
Local subdivision regulations represent a major tool by which local governments manage (or at least did up until 2007) and shape the housing development process. During that period of American history subdivision regulations were intended to ensure that proposed housing developments
are cost-effective (i.e., reduce extensive long-term maintenance by the locality), meet health and
safety requirements, are properly designed, and have a favorable impact on the community.  The assertion of this report, albeit true, is that the cost of these requirements represents a significant share of the cost of producing new housing.  Such requirements can reasonably be considered "regulatory barriers" to affordable housing if the locally determined requirements are greater (and hence, more costly) than those necessary to achieve health and safety requirements in the community.
The Obama administration quickly disposed of those original HUD reasons for existence, i.e., honorable American free market government policies to achieve health and safety requirements.
Please follow and like us: